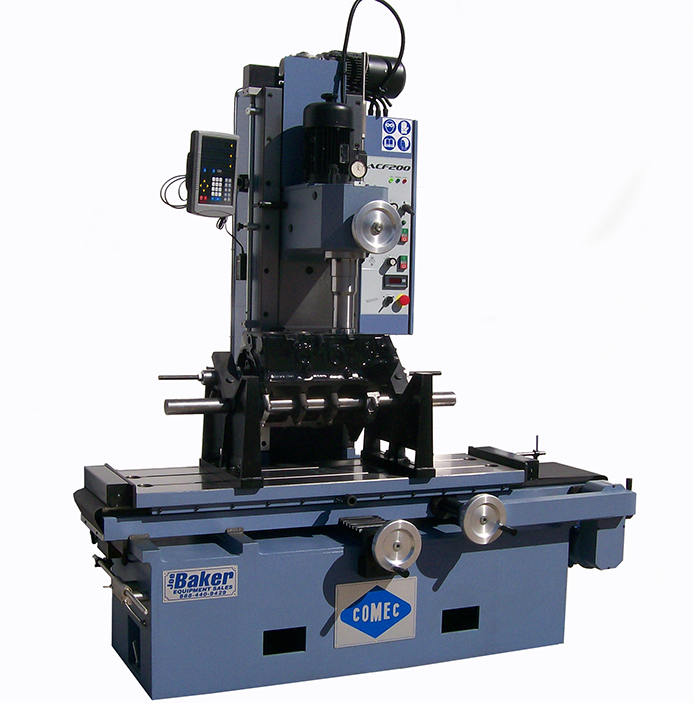 Tips For Buying Shop Machinery, With Tammy Baker, Joe Baker Equipment Sales
Buying shop machinery doesn't have to be stressful or require a great deal of research, according to Tammy Baker, of
Joe Baker Equipment Sales
, located in Cincinnati, Ohio. In fact, it's a good idea to start small, within your means, and build the shop gradually, versus going deep into debt. Keep in mind, too, that used equipment can be an affordable solution.
Joe Baker Equipment Sales ships throughout the U.S. and Canada, and sells a wide variety of automotive engine rebuilding equipment and parts to supply shop needs. They also provide in-house equipment rebuilding.
With a constantly updating inventory, the company prides itself in locating any requested equipment that's not currently in stock, as well. And along with new equipment, they also sell used, and are always looking for good, used machining equipment.
But, Tammy and Joe Baker offer more than the machines and machine parts, however—they provide expertise that can be critical in both quality control and customer support for race shops everywhere.
"We have been doing this since 1981, working with the racing industry for as long as we've been in business. We sell at least a dozen different lines of automotive engineering rebuilding equipment," said co-owner Tammy Baker.
Along with other brands, the company sells Comec engine rebuilding equipment; Berco equipment, parts and service; Winfield Production head fixtures; FMT; and Kras. They also carry Govoni specialty automotive tools, Kwik Way and Mira.
When it's time to buy shop machinery, and customers come into the store, Baker says "We try to guide them by asking what machines they are wanting to start with, and for what part of the shop. We ask them, do they want to start a head shop, do they want to start with surfacing, what area do they want to start with." The reason for these questions: "We don't want them to start with the whole kit and caboodle and get themselves deep in debt. We want to help them start small, and as you get that machinery paid off, then expand little by little."
On the whole, Baker relates that "While we do get some start-ups, there's not as much as there used to be. Most of our customers come to us to replenish what they have." She adds that "Right now, during the coronavirus situation, we are particularly seeing more diesel work being prepared. The diesel truck industry is picking up because of public needs for it. As far as the racing industry goes, no one is giving up. There is nothing that stands out specifically as a purchase, but people are buying." She notes that at present, heads, benches, and seat and guide machines are popular in automotive overall, with the larger machines selling to diesel.
Baker describes training as very important when it comes to buying what is often expensive new machinery. "I consider it essential that buyers know what they are doing in their positions. They need to know what type of work they are doing, the machine, and everything about the work before they start it. They might think they know what they are doing and then get in over their heads otherwise, and we don't want that to happen," she explains. "It costs them lots of jobs and customers in the end. So, to prevent that, a lot of times we will also refer buyers to other customers that can guide them along and give them hints and tips along the way."
Both new and old customers, as well as the Bakers, find that this technique works well for training. "I don't have a problem referring them to some of my other good customers who are willing to help them out. We are all in this industry together," she asserts.
As far as in-house training goes, Baker said, "We don't do as much in-house these days; we don't have a specific program here. We rely on our associates to help us, or our vendors, rather, than having a formalized program, but they will come in and help."
The Bakers also work hard to help customers weigh what they want to have with what they can afford when it comes to machines and machine parts. "We try to guide them along, say 'let's start here,' and if they think they need something before they need one piece which we think might be better coming first, then we will guide them to a 'Plan B,'" she relates. "A lot of times, we can find them used equipment versus buying new; and going through a leasing company will help them out, too."
She believes that the best way for a race engine builder to keep up with shop machinery advances is to dedicate one person in a machine shop to "staying on top of things. Someone should always be looking at the websites. We also send out fliers periodically ourselves, and we tell people to contact us for information. We always have someone to refer to them, having referrals really helps the most, that and always having someone out there looking."
As to the best time of year to shop and buy, Baker says "The end of the year is the best time. There is always the Performance Racing Industry show, where vendors will provide discounts."
In this time of pandemic, Baker emphasized the racing industry is still conducting business, and Joe Baker Equipment Sales is there for their customers. "It has affected business, for sure, but we are here helping people. There are not as many people buying large pieces right now, but people are buying lots of parts to maintain the equipment they have."
After all, she attests, "Most shops are busy. They just want to see how the economy is going to come back before making major investments."
By Genie Davis