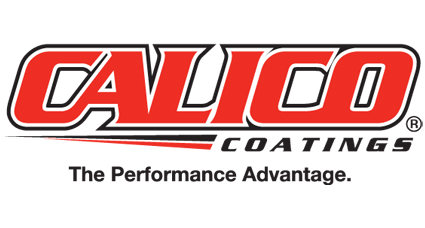 Segments of the Market and Company Profile
Autocross
Circle Track
Diesel Racing
Drag Racing
Drifting
Electric Vehicle Racing
Formula/Single Seater
Hill Climb
Historic/Vintage
Hot Rod
Karting
Land Speed
Late Model
Marine Racing
Modified
Motorcycle Racing
Muscle Car
Off-Road
Open-Wheel
Rally
Road Racing
Sport Compact
Sports Car/Endurance
Stock Car
Street/Strip
Touring Car
Tractor Pulling
Truck Racing
Calico Coatings solutions provide a wide range of protection and advantages to engineers and manufacturers worldwide. Many factors are taken into account to determine the effectiveness of our thin film coatings, the methods of application and the performance properties. Here you can find a list of our coatings and links to the detailed technical data sheets for each — including substrate, operating temperatures, applications and more.

Our History

Calico Coatings was founded by racers, for racers. Tracy Trotter, owner and a racer himself, set out to develop the industry's most technologically advanced coatings — with the ability to withstand the extreme conditions of high speed and engine wear. Calico quickly gained a reputation as a leader in high performance with race teams and engine builders to solve issues of friction, wear, heat and corrosion.
Trotter started the company with a little help from a special friend. "After working in the industry for several years I knew I could do this for myself. So, with the little savings I had and a small loan from my grandmother, I opened the doors of Calico Coatings." Starting with only two employees, Calico has now grown to 40 employees, running two shifts in order to meet the growing demands of their customers.

For more than 20 years, the Calico team has worked relentlessly to maintain their reputation as the highest quality coating company in numerous industries in addition to racing. To remain on the cutting edge of coating technology they have also made advancements in thin films. "Our goal is to be the best in the coating business when it comes to quality," said General Manager Jennifer Jenkins. "We have been blessed with an unbelievable team of people at Calico Coatings and they have been the reason for our success through the years."

When many small businesses have struggled to keep afloat, Calico has been able to successfully navigate through the financial challenges of the recent years. In 2007, Calico expanded their operation by adding a laboratory facility dedicated to the research and development of new coatings, including diamond-like coatings. By the end of 2012, Calico combined their operations into their corporate headquarters. Then in 2019, an additional expansion to make room for more thin films machines is now a — a state-of-the art, 30,000 sq. ft. manufacturing and research facility located in Denver, NC.

Today, Calico's performance coating knowledge and expertise is in demand across numerous high-performance industries including automotive/motorsports, the U.S. Military, aerospace, molds and dies, diesel engine, firearms and others. In these industries where performance is everything, Calico's coatings provide the needed edge for outstanding results. Calico's arsenal of coatings that can withstand extreme pressure, reduce friction and wear include PECVD, DLC, PVD, TiN, ceramic, Teflon®, thermal, non-stick dry film lubricants and more.
CALICO COATINGS
Product or Service Spotlight
CALICO COATINGS
Videos and Tech Webinars
CALICO COATINGS
Industry Resources
CALICO COATINGS
Brochures & Catalogs (1)
CALICO COATINGS
Technical Articles (2)
5 Benefits of Using Coatings in the Oil & Gas Industry