Upgrade to a PRO ACCOUNT Today
A Pro Account listing includes your company profile and logo, and allows you to post product photos and descriptions, as well as videos, technical information and other valuable content.
When you purchase a Pro Account, your listing automatically rises to the top of the search functionalities, your company is featured in our weekly newsletters and you are invited to participate in our webinar series.
Purchasing a Pro Account significantly increases your visibility on the EPARTRADE platform, and provides new opportunities to capture the attention of industry decision-makers and buyers. A Pro Account gives you also DIRECT ACCESS TO BUYERS, so you can now search and connect with buyers, 365 days per year. This makes EPARTRADE not only a marketing tool for your organization but also a business development tool by putting 33,000+ racing organizations at your fingertips!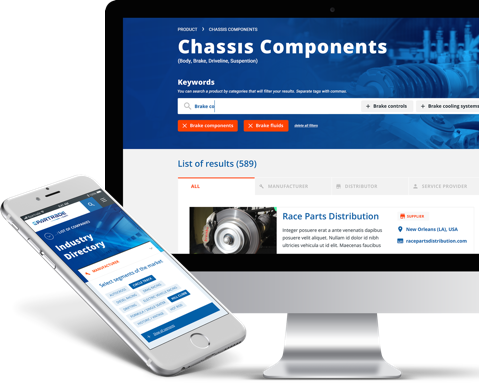 EPARTRADE offers Pro Account holders five essential services:
1

Performance Report

The EPARTRADE Performance Report provides you with analytics that tell you exactly how many qualified buyers viewed your company profile and product offerings, including the duration of time spent on each. Available quarterly upon request.

2

Buyers Match Program

The EPARTRADE Buyers Match Program connects buyers and suppliers through the platform. Our algorithms match the type of products you are selling with buyers who have interest in that type of product. Available quarterly upon request.

3

Newsletters

"Added-value"... the EPARTRADE newsletters are going out 3-times per week to 73,000+ performance and racing professionals worldwide.
We feature products, content, and banners from Pro Account Suppliers.

4

Live Tech Webinars

"Added-value"… Tech webinars. We 'air' weekly compact and concise live presentations with Pro Account Suppliers on a variety of technical subjects at a more sophisticated level for our industry audience.

We guarantee you haven't seen anything like this!

5

Direct Leads

With EPARTRADE Direct Leads, we use our software to generate leads from interested buyers around the world and deliver them to you. No ecommerce here! We create the leads; you contact the buyers and design your own deal.
Companies have the choice to purchase between 5 different Pro Accounts and can pay monthly, annually or bi-annually.
Advantage Package and up receive the most exposure, views, clicks, and added value.
For additional information on how to join our Pro Account Program, please contact: sales@epartrade.com